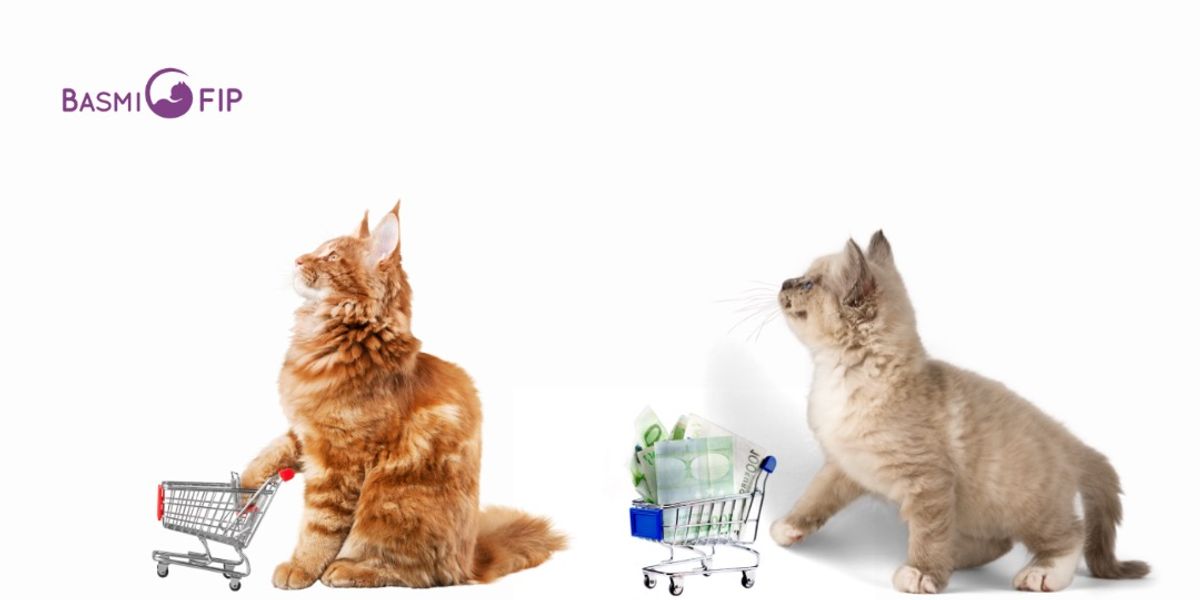 In the past 14 months BASMI FIP™️ has saved thousands of cats in Southeast Asia by providing effective Feline Infectious Peritonitis treatments so that cats owners and doctors can timely save.

We have also created BasmiCare™️Program for cat owners with financial difficulties paying for the treatment by donating one free vial for every purchased vial.

Recently, we have received news from cat owners that they have talked to resellers who are claiming that they have Basmi FIP treatments for sale, and were asking for prices significantly higher than the prices we offer on Basmifipph.com. For example: they asked 4,900 PHP for our 5.2ml, 17 mg/ml concentration when we only charge 3,720 PHP for the product.

We want to inform everyone that we only sell our FIP treatment through our website basmifipph.com in the Philippines. We DO NOT sell through a reseller network. We avoid selling through reseller network to protect our brand and to protect your cat. Our FIP treatments are produced monthly and have been validated by internationally certified independent labs to their concentration and purity. We are well aware of overly aggressive online and offline resellers in the Philippines who are misrepresenting our products to unsuspecting cat owners looking to buy genuine Basmi FIP treatments. We want to clearly tell you that these people do not have access to our product and are very likely selling low quality unvalidated FIP treatment while claiming to be ours.

If you wish to treat your cat but have financial difficulties purchasing our product, please contact us to learn how to be part of BasmiCare™️ Program. We donate FIP treatment to cat owners in Philippines through accepted crowdfunding website. In the Philippines, we recognize airfunding.net.



Refunds are only available through BASMI FIP™️.

According to our refund policy, refund are provided within the first 30 days of purchase for unopened vials. When you buy on our website your order history and account is stored and can be retrieve by you anytime to claim refund. We will not provide refunds for supposedly Basmi FIP products purchased through unknown 3rd party resellers.



Where to purchase your Basmi FIP treatment?

We offer our reputable FIP treatment in the Philippines only through our website basmifipph.com. Please purchase only from our website to get authentic, correctly priced and lab validated products.



True Concentration Reports

Our vials are tested by internationally certified 3rd party laboratories to validate concentration and purity. We publish our test reports on our Basmi FIP Philippines Facebook and Instagram accounts. You may also ask our Treatment Experts for a copy of the test reports.

Concentration accuracy is important during the treatment. Under-dose due to inconsistent or inaccurate concentration will significantly increase the likelihood of FIP relapse in the future. Should you purchase GS from other brands, reseller, or agents, ALWAYS request this report for verification purposes.



Testimonials

BASMI FIP™️ are currently providing effective FIP treatments in Malaysia, Indonesia, Thailand, India, and Philippines. We have countless testimonials and success stories. You can check out some of the stories using hashtag #basmifip or #basmifipph. You may also visit our Youtube channel where we upload compilations of testimonials and treatment educational videos. Click here to visit our Youtube Channel.

With this post, I hope you now have a better understanding of BasmiFIP. What we do to ensure you get the best quality product.

Share this with your fellow cat lovers.